We made it! We've been living in the cave house for the last three weeks and honestly it is like a little bit of paradise! There are bugs galore, (more on that later!) the shower is the complete opposite of a power shower, but the water is hot and it does the job for now, we have a million boxes to unpack and a to-do list as long as Las Canteras coastline, but despite all of these things we wake up everyday to blue skies, sunshine and mountains and it is even better than we could have imagined!
The flight over to Gran Canaria was a breeze. I wasn't sure how Leon would cope on his first plane journey but apart from a blow-out poo moments before take off, (which mummy and daddy swiftly cleaned up before we left Gatwick to avoid hysterics!) Leon slept for most of the flight, and the rest of the time was cooing happily at the other passengers and generally being his happy, cute self! It wasn't as difficult as we'd imagined bringing over ten suitcases, two items of hand luggage and a pram and car seat! We juggled three airport trolleys between the two of us and made it through check-in as quickly as we could, then hotfooted it to the VIP lounge for our customary glass of bubbly before the flight!! I felt quite emotional all day. We had just said our goodbyes to all of my family over breakfast and just a few hours later we were being greeted at the airport in Las Palmas by our close friends, our new 'Canarian family'.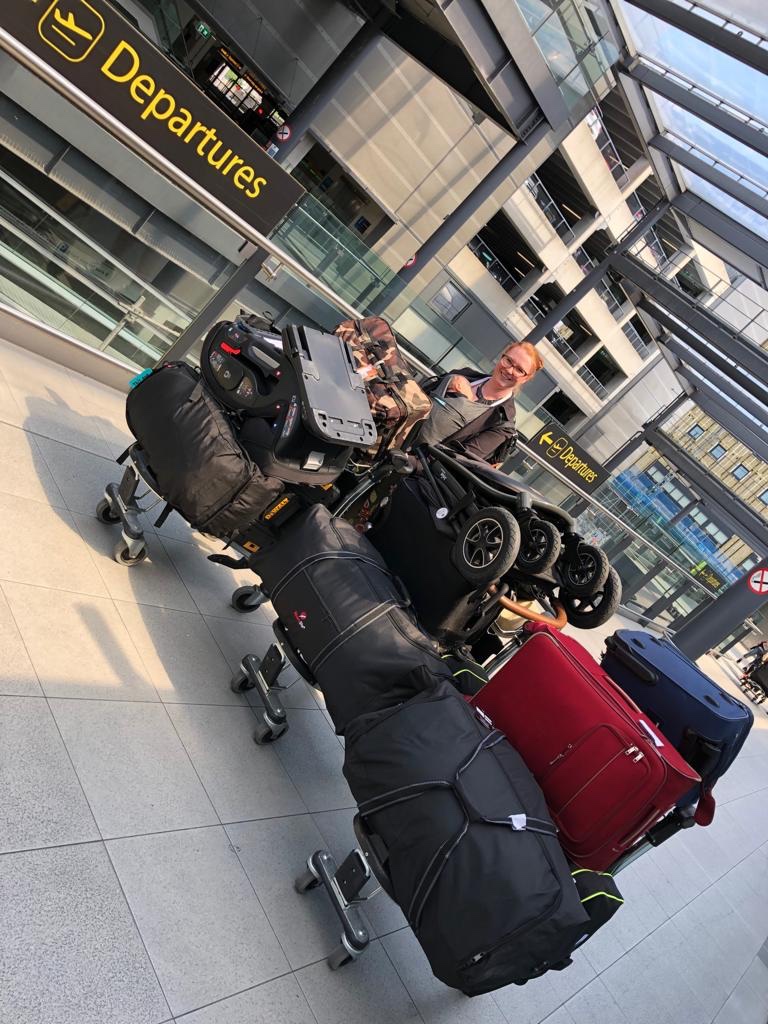 The first time I saw our home in person it was exactly as I had imagined it from the photos and videos I had seen, but even more beautiful and peaceful. There was a lot of work to be done but the potential of the place was what we had loved about it and now we were here I could see how incredible this place could be (with a lot of hard work!) Of course there were downsides and things I hadn't even thought about back in the UK, for instance the bugs and insects sharing our new home with us! I've never been the biggest fan of spiders and wasps etc, but now I was about to come up close and personal with more than my fair share!
Before we could move into the cave house we needed to open it up and air it as it had been closed for over three years and was stuffy and humid. We spent the first fortnight driving up the mountain each day from Las Palmas to clean the house and let fresh air circulate before heading back down the mountain late at night to stay with friends. On the second day I had nipped down to the car to put on my trainers as my flip flops did not seem like appropriate footwear for working on the uneven terrain. If only I'd actually put the trainers on before heading back to the house rather than carrying them! On the way back I trod on an old breeze block that was being used as a step and disturbed an angry mob of wasps who had made their home inside!! Several painful stings to the feet later and the lesson was learnt, always wear proper shoes when living in the country! This was not the only time I would be stung this summer, the next time was when a wasp hid in my towel that was drying on the line and nipped me on the bottom after a shower! Thankfully there have been no further wasp stings so far but I'm sure these won't be the last!
We have been amazed by the vast array of insect and animal life living around the cave house, most of it outside but the odd couple make it inside! Crickets, wasps, gigantic black worker bees, a praying mantis, terrifying-looking centipedes, blue tits, owls, birds of prey, donkeys, horses and a whole family of stray cats to name but a few! Leon is going to have a great time getting to know all of our new neighbours as he gets older! The cave house really is an exciting place to live and we can't wait to get settled in properly!